Brandwerend
De temperatuur van een brand wordt beïnvloed door verschillende zaken zoals:
• De tijdsduur van de brand
• Verschillende materialen
• Is het een lopend of een stilstaand vuur
Feit is dat de gemiddelde temperatuur van een brand kan oplopen tot 600 à 800 °C. In extreme gevallen kan de temperatuur zelfs stijgen tot 1000 °C
Bescherming tegen brand van papier of datadragers
Brandwerende producten zijn zo gemaakt dat ze ervoor zorgen dat de binnentemperatuur van de kast lager blijft dan de temperatuur waarbij papier of data beschadigd wordt. Papier beschadigt of kan zelfs vergaan boven een temperatuur van 175°C. De kritieke grens voor magnetische informatiedragers en digitale datadragers ligt al op ca. 50 °C. Boven deze temperatuur is de kans groot dat de gegevens op de media verloren gaan. In een kluis die bijvoorbeeld 1 uur is getest tegen brand voor papier zijn uw back-up tapes dus niet beschermd tegen brand. Om uw media te beschermen, heeft u een datasafe nodig. Behalve tegen brand beschermen datasafes namelijk ook tegen vocht, stof en roetdeeltjes. Wel zijn er voor sommige brandkasten databoxen die gebruikt kunnen worden in een brandwerende kluis. Hierdoor heeft u de perfecte bescherming tegen zowel brand als diefstal voor uw papieren en data.
Brandwerende testen
Wilt u uw documenten tegen brand beschermen, kies dan voor één van de geteste brandwerende kluizen. Brandwerende testen vinden plaats bij onafhankelijke testinstituten in diverse landen. Er zijn diverse brandwerende standaarden volgens welke een brandkast getest kan worden. De brandkasten worden getest bij hoge temperaturen. Getest wordt of de kluis de inhoud voldoende beschermt. Sommige standaarden hebben zelfs een valtest waarbij wordt getest of de beschermende werking niet nadelig wordt beïnvloed wanneer de brandwerende kast tijdens een brand door een verdiepingsvloer zakt.
De brandwerendheid wordt uitgedrukt in minuten, gevolgd door de P van papier of DIS voor data. Deze teststandaarden geven aan hoelang een brandwerende kast papier of data beschermt bij een grote brand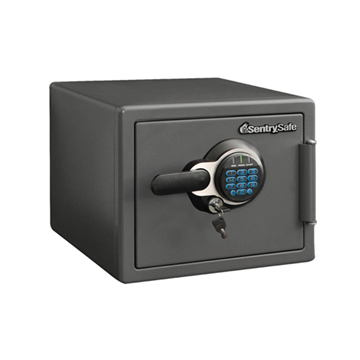 061030181
Biedt bescherming tegen brand (1 uur) geschikt voor de berging van documenten en informatiedragers zoals USB-sticks, CD's, DVD's en externe harde schijven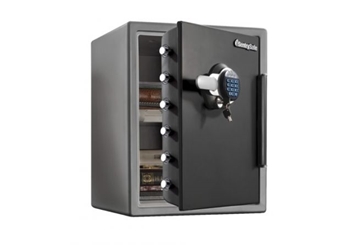 061030381
Biedt bescherming tegen brand (1 uur) geschikt voor de berging van documenten en informatiedragers zoals USB-sticks, CD's, DVD's en externe harde schijven